Well I figured I would make one of these, so I can keep track of my 929 progress.
First off this was my first one, 90 929s. had cut springs, custom intake filter, custom single exhaust, corbeau bucket seats, nardi classic wheel, custom ebrake mod*for the drifts*, 17x8 work rezax
Now onto the new car, 89 929. I have been looking for another one for quite some time, all I could find was super expensive ones that I wouldn't want to beat up.
A few days ago I found this car, picked her up for $400 running with a fucked auto trans.
I sold my s14 zenki project shell, and now I found a 5 speed swap and the car should be 5 speed by the end of the month.
The day I brought it home
Today I threw 2 of my spare wheels on the car today, 17x9 +0 kmc hotwheels 68s(from my s13 240sx)
then I started cleaning, and stripping some of the shit that I wont be using.
Ill update with more pictures as I go, I have 4 cars going at one time here. So the progress will be kind of slow.
heres some of the cars I am working on
my 92 240sx coupe, rebuilt sr20, t28, fmic, 3" exhaust, typical bolt ons on 10 psi, coils, suspension arms, 17x9 +0 hotwheels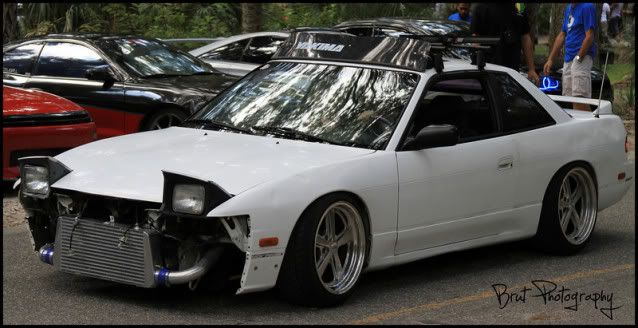 my room mates track toy
91 240sx hatch, sr20, t25, 3" exhaust from turbo back, fmic, 12 psi, welded diff, coils, suspension arms, corbeau bucket(from my 929 haha), silvia hood, custom headlights/brackets
my other room mates current daily/future track toy
s13 coupe, rb20det, 3" exhaust, coilovers, welded diff pretty simple setup
Ill be in need of some parts soon, so keep a look out for my HC wtb thread.
thanks for looking.